GR 51 and Local Walks Around Menton and Ste Agnes
Introduction to the Grand Randonne (GR) and the Petit Randonnee System in France.
These are long distance walking paths commonly known by the prefix GR+number.
France is a country well equipped with long-distance footpaths or hiking trails. There are over 100,000 kilometres of walking trails of which 35,000 kilometers are way marked on posts, stones, trees corners of buildings, electric pylons and anything else you can think of!
The sign of a GR route is a white band immediately above a red band, or it may be 2 white bands above and below a red band, the bottom white band may signify a change of direction (see photo) Other signs may include a yellow cockle shell on a blue background, this is usually an old Pilgrimage Route towards Compostela in Spain that may join various GR routes.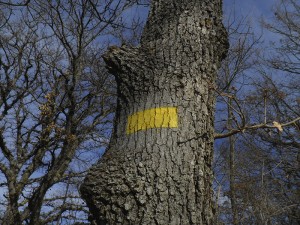 There are also local paths sometimes linking GR routes or not. These are known as (PR ) routes PetitRandonnee and marked by a yellow band. Some are not way marked, you may need a local map to follow these paths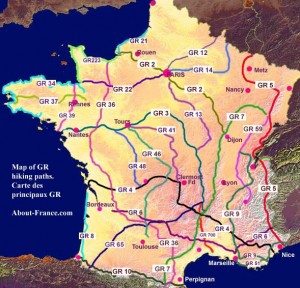 The Map above shows the main long distance GR hiking routes in France
GR2 – From Le Havre, via Paris, to Dijon.
GR3 – The Loire Valley trail – From La Baule, to the source of the Loire
GR4 – The Alps-Atlantic trail: from Grasse, in the Alps, to Royan, on the Gironde estuary.
GR5 – From the Luxembourg border to Nice (trail originating in Holland).
GR6 – The Aquitaine-Alps trail, from Ste. Foy la Grande, near Bordeaux, to Saint-Paul-sur-Ubaye.
GR7 – The Vosges-Pyrenees trail, from southern Alsace to Andorra.
GR8 – The south Atlantic coastal trail – from Hourtin Plage to Sare, in the western Pyrenees.
GR9 – The Jura and Alpine foothills trail, from St. Amour to St. Tropez.
GR10 – The High Pyrenean trail, following the line of the Spanish border.
GR12 – From (Amsterdam) and the Belgian border to Paris.
GR 13 – The Morvan trail, from Fontainebleau to Bourbon-Lancy.
GR 14 – The Ardennes trail, from Paris to Malmédy, Belgium.
GR 21 – The Alabaster coast trail, from Tréport to le Havre.
GR 22 – Mont Saint Michel pilgrimage trail – Paris to Mont St. Michel
GR 34 – The Breton coastal footpath, from Vitré to Quimperlé.
GR 36 – The 1000 kilometre trail, from the Channel coast to the Spanish border.
GR 37 – The central Brittany footpath, from Vitré to Douarnenez.
GR 39 – The Trans-Brittany trail, from Mont St. Michel to Guérande.
GR 41 – From Tours to the Massif du Sancy (Massif Central)
GR 46 – From Tours to the Tarn.
GR 48 – The Vienne valley trail.
GR 51 – The Mediterranean Balcony – from Marseille to Menton
GR 59 – The Jura and Bugey trail, from the Vosges to Grenoble.
GR 65 – The Santiago de Compostella pilgrimage route, from Geneva, via Le Puy en Velay and Conques, to the Pyrenees.
GR 223 – The Cotentin and Normandy beaches trail.
GR 700 – Regordane Way – historic pilgrimage route from Le Puy en Velay to St. Gilles du Gard.
Map of the GR 51 From Menton to Marseilles (courtesy of traildino.com)
Also known as the Balcony of the Mediterranean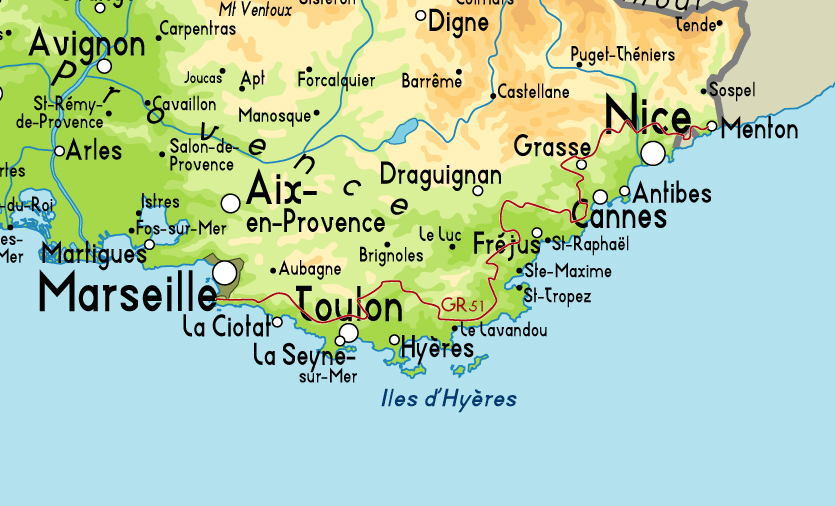 Map-of-GR51
Map numbers to complete the whole of the GR 51 follow below. It is strongly recommended that the IGN (Institut Geographique National) Carte de Randonnee TOP 25 are used. The map numbers are given below:
These maps are scaled at 1: 25 000 1cm=250 m
They provide excellent detail and are clear to read, they include the GR routes and some local routes. Check on the issue dates of the maps, because there may have been new diversions eg a major diversion is now to be found above Mandelieu-Napoule. The diversion is included on this site.
East>West:
1 Nice Menton 3742 OT
2/3  Cannes Grasse 3643 ET
3  Vallee de l'Esteron 3642 ET
4 Haute Siagne 3543 ET
5 Diversion towards Mandeliou-Napoule see below
6 Frejus-St Raphael 3544 ET
7 Le Muy 3544 OT
8 St Tropez-St Maxime 3545 OT
9 Signes 3345 OT
10 Cuers 3445 OT
11 Le Lavandou 3446 OT
12 Toulon 3346 OT
13 Aubagne-La Ciottat 3245 ET
14 Marseille-Les Calanques 3145 ET
The map numbers do not correspond to the section descriptions of the routes that follow, there may be a number of sections or local circuits on one map.
Diversion of GR 51 Above Mandelieu-Napoule